Sometimes when you buy eyeglass chains, it's difficult to get them to work with your glasses. Lots of glasses have very thin arms, and this makes the loops on the eyeglass chain slip off easily.
Your eyeglasses get dropped. Scratched. Stepped on. Or lost, as the case may be.
I make beaded eyeglass chains that are offered in my online shops both on
Artfire
and
Etsy
.
Bits n Beads on Artfire | Bits n Beads on Etsy
In my experience, there are a number of people who love beaded eyeglass chains, but have this problem with the loops being too loose to hold their glasses in place.
Fortunately, there's an easy fix to this problem that I'd love to share!
All you need is some miniature rubber bands.
You can find these bands in a variety of colors including black at a variety of locations including grocery stores, convenience stores, catch-all stores like Wal-Mart, dollar stores and more.
I recommend using black, because the black will match the loop that holds on to your glasses and be nearly invisible to anyone looking. In this demonstration I show it done in yellow so you can easily see how it's done.
Use one rubber band on each end and wrap the band around the cloth part of the eyeglass chain's loop a number of times until it bands around the bottom of the loop near the bead. (See picture below.)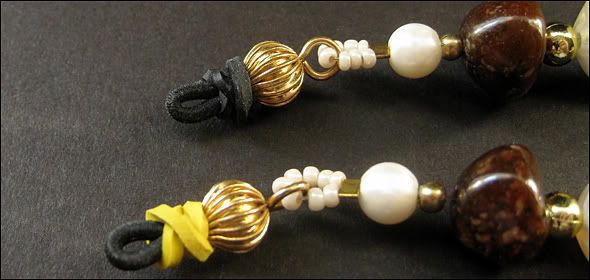 This technique tightens the loop of the eyeglass chain so that it can easily grip the skinnier arms that many eyeglasses now have. At the same time, it's nearly invisible and so it keeps the eyeglass chain still fashionable and neat!
I hope this helps those out there that love wearing pretty,
beaded eyeglass chains
but have always had a problem with getting them to work with your glasses.
In our shop, not only do we make
beaded eyeglass chains
, but we accept custom orders as well! If you have a specific length you want, please don't hesitate to contact me for a custom order. It doesn't cost extra to adjust the length and I'm happy to do it at no extra charge on the eyeglass chains we have in stock as well as when creating new designs.